Leisa Richardson and Eva Coleman Named #NABJ19 Convention Co-Chairs
Friday, March 15, 2019 (0 Comments)
Posted by: Kanya Stewart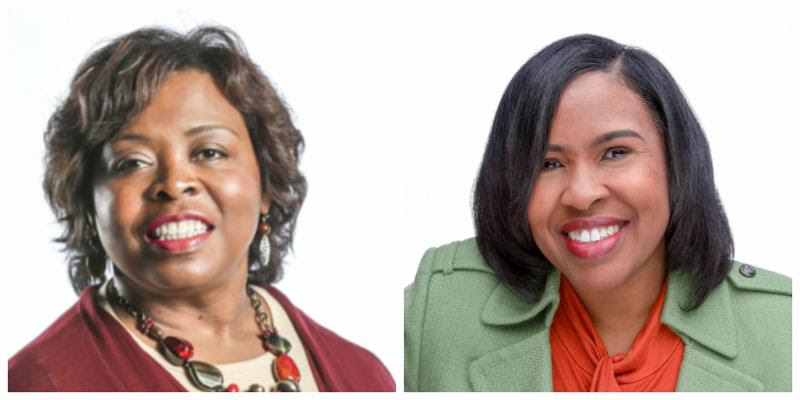 Leisa Richardson and Eva Coleman Named #NABJ19 Convention Co-Chairs
WASHINGTON, D.C. (March 15, 2019) – National Association of Black Journalists (NABJ) President Sarah Glover has appointed longtime members Leisa Richardson and Eva Coleman as co-chairs of the organization's 2019 Convention and Career Fair, to be held in Miami, Aug. 7-11.
As co-chairs of #NABJ19, Richardson and Coleman will lead the convention team in executing the nation's largest journalism jobs fair. As the largest organization for journalists of color in the U.S., NABJ expects more than 4,000 participants to attend the gathering. Registration is now open at www.NABJConvention.com.
"Leisa and Eva both possess the passion and commitment that have been at the core of NABJ's 44-year history," said NABJ President Sarah Glover. "We are excited to have both of them return as chairs. Their combined myriad of experiences in all forms of media will enhance this year's activities and help to make 2019 a year to remember."
Richardson is a veteran journalist who has worked as a reporter, editor and publisher in newsrooms in Indiana, Ohio, Illinois and at USA Today in Northern Virginia. She most recently served as regional planning director for The Indianapolis Star. Richardson is a lifetime member of NABJ, serving on the Board of Directors for two terms and as chair of the special honors committee.
She previously served in various leadership roles at several past NABJ conventions: special events chair in Minneapolis (2015), chair in Tampa and Las Vegas (2009 and 2007) and program lead in Indianapolis (2006). She is a past president of the Indianapolis Association of Black Journalists and was a founding member and past president of the former NABJ/Cincinnati.
"I am again honored to serve as an NABJ convention chair, especially at such an important time for journalists and journalism," said Richardson. "I look forward to working with our convention planning team to bring our members and guests top-notch training, the best career networking opportunities and the chance to hear from the nation's newsmakers. There's an excitement about NABJ returning to South Florida."
Richardson's work has received awards from the Hoosier State Press Association, Gannett, Indiana Associated Press and Ohio Associated Press. She was nominated for induction into the 2019 Indiana Journalism Hall of Fame.
Richardson studied journalism at Ball State University and newsroom management at the Maynard Institute for Journalism Education at Northwestern University's J.L. Kellogg Graduate School for Business Management/Medill School of Journalism. She is a member of the Society of Professional Journalists.
Coleman is executive producer of Frisco ISD-TV in Frisco, Texas. She is considered a statewide leader in the journalism community, which includes her work as lifestyle and culture editor for I Messenger Media, LLC, Texas Metro News and The Garland Journal. She served as the 2018 NABJ Convention chair in Detroit and previously co-chaired regional conferences for NABJ. She is past president and current vice president of the Dallas-Fort Worth Association of Black Journalists and previously served as deputy director for NABJ's Region VII and V. She currently serves as NABJ Region III deputy director – West. She is a faculty member and lead multimedia specialist for NABJ's High School JSHOP Committee.
"Chairing the NABJ 2018 Convention in Detroit was definitely a highlight of my media career," said Coleman. "Being appointed to co-chair #NABJ19 in South Florida is beyond my wildest dreams. The ability to carry forward the momentum that the team and I generated last year, coupled with President Glover entrusting me once again with this gargantuan task, is an honor of which I'm eternally grateful."
A four-time Telly Award-winning producer, Coleman is also skilled in radio broadcasting and served as a technical operator for Dallas' KRLD 1080 AM for 12 years, which included Texas Rangers baseball broadcasts. In 2014, Coleman was selected to serve on the State Board of Education's Arts, Audio/Video Technology and Communications Committee and in 2018 she was appointed to the Texas Education Agency's Arts A/V Technology and Communications Industry Advisory Committee.
She is a member of Alpha Kappa Alpha Sorority, Inc., and is an alumna of Sam Houston State University in Huntsville, Texas, where she received a Bachelor of Fine Arts in Radio-Television-Film.
To register or for more information about #NABJ19, visit www.nabjconvention.com.
Media Contact:
Kanya Stewart | Director of Communications | Press@NABJ.org
About NABJ
The National Association of Black Journalists (NABJ) is an organization of journalists, students and media-related professionals that provides quality programs and services to and advocates on behalf of black journalists worldwide. Founded by 44 men and women on December 12, 1975, in Washington, D.C., NABJ is the largest organization of journalists of color in the nation.