NABJ Sports Task Force Welcomes Charles Barkley, Simone Manuel and Sports Influencers to #NABJ17
Monday, June 26, 2017
Posted by: Brittani Butler


Attend the NABJ Sports Jam and party with a purpose. There's just four days left to register as a pre-registrant and save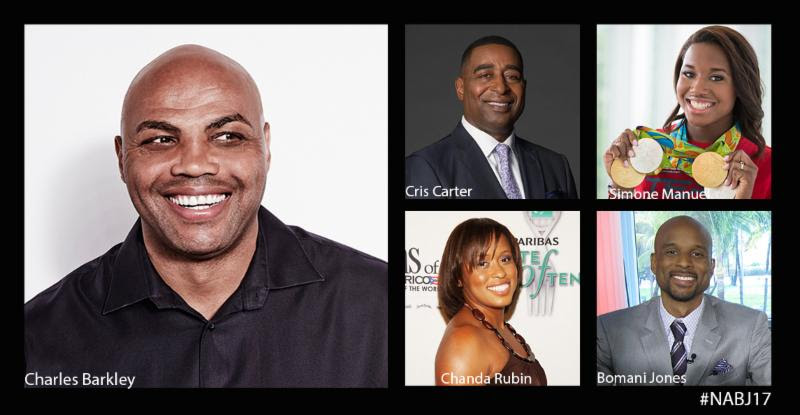 Washington, D.C. (June 26, 2017) -- The National Association of Black Journalists (NABJ) is pleased to announce former NBA player and sports commentator Charles Barkley and NFL Hall of Fame Cris Carter are among those who will attend the 2017 NABJ Convention and Career Fair in New Orleans Aug. 9-13, 2017.
Gus Johnson of Fox Sports will moderate an NABJ Sports Task Force panel, "A Conversation on the Intersection of Sports, Social Justice, and Activism," that will feature Barkley and Carter, along with Kevin Merida, Editor-in-Chief of The Undefeated and Nzinga Shaw, chief diversity and inclusion officer for the NBA's Atlanta Hawks. The panel, on Aug. 10, will discuss the role -- if any -- of professional athletes as it relates to social unrest in the country and how journalists can report about race and sports in ways that move the needle.
Sports journalists representing news organizations from coast to coast will be participating in convention programming, including Carron Phillips of the New York Daily News, Marc Spears of The Undefeated, Steve Wyche of NFL Network, Robert Littal of Black Sports Online, and Shaneika Dabney-Henderson of NFL Media. A special thanks to our sports partners: NFL and MLB.
Four Olympic medalists will be featured with ESPN Anchor Michael Eaves, who will moderate a panel, "The Challenges of Covering the Black Athlete in Olympic Sports" on Aug. 11.
This NABJ Sports Task Force workshop will feature Simone Manual, 2016 Olympic Gold Medalist; Cullen Jones, 2008 and 2012 Olympic gold medalist; Maritza McClendon, 2004 Olympic silver medalist; Reece Whitley, national Junior Team Member and 2015 World Juniors Silver Medalist; and Gary Washburn, the national basketball writer and Celtics reporter for the Boston Globe. The discussion, powered by USA Swimming, will explore how black athletes became the face of non-traditional sports at the 2016 Olympic Games in Rio de Janeiro.
Join the NABJ Sports Task Force on Friday, Aug. 11 when it recognizes pioneering African-American sports figures with ties to New Orleans during the Sam Lacy Pioneer Awards, sponsored by Major League Baseball and the National Basketball Association.
This year's confirmed honorees include: Mahmoud Abdul-Rauf, a former NBA player and a star at Louisiana State University; James Harris, the first black player to start a season at quarterback in the history of professional football; Chanda Rubin, a retired tennis professional who won seven WTA Tour singles titles; and Journalist of the YearArthur Triche, a former sports communications executive and an Executive Producer at CBS Radio in Atlanta.
Finally, plan on attending the 12th annual NABJ Sports Task Force Scholarship Jam on Friday, Aug. 11 from 10 p.m. to 3 a.m. at the House of Blues. Sponsored by Turner Sports and Disney Sports, this annual premier party with a purpose supports the NABJ Scholarship Fund. Come see why everyone talks about the serious fun had with star athletes, entertainers, and other celebrities. You never know who may show up! This year's theme is New Orleans-centric, so attendees are encouraged to wear a creative mask and participate in a best mask contest!
Pre-Register by June 30 and save: About 3,000 professionals, educators and students from across the media industry will be attending the #NABJ17, the largest journalism of color jobs fair and the premier venue for career development and journalism education for members employed in media, business, arts and entertainment, and technology. Discounted convention pre-registration rates are still available for the #NABJ17 Convention until June 30. Attendees who pre-register can save up to 30 percent and will have opportunity to participate in more than 75 workshops led by innovative companies including Facebook and Google. Click here for pricing details and to register.
Book Your Hotel Now: Our room block is quickly filling up. Reserve your hotel room at the Hilton New Orleans Riverside ASAP to receive discounted prices or book at the New Orleans Downtown Marriott, our overflow hotel. For hotel booking instructions, click here.
Programming Notes: The NABJ Career Fair opens at 1 p.m. on Wednesday, Aug. 9, 2017 and closes at 5 p.m. on Friday, Aug. 11. Wednesday is primed with a full day of professional development programming, including half- and full-day training sessions and standard workshops that registrants can take advantage of. Please note: Each individual workshop and convention-related programming will require a convention badge to enter the room. Be prepared and register today.
About the National Association of Black Journalists:
An advocacy group established in 1975 in Washington, D.C., NABJ is the largest organization for journalists of color in the nation and provides career development as well as educational and other support to its members worldwide. For additional information, please visit www.nabj.org.